Please note that I may earn a small commission from purchases made through product links in this article at no extra cost to you. As an Amazon Associate I earn from qualifying purchases.
Last updated: May 17, 2023
One of the oldest and also most successful home laser tag sets ever made is the Nerf Lazer Tag Phoenix LTX Tagger 2-pack.
First released in 2008 as part of the Nerf Lazer Tag series, the Phoenix LTX blasters are sophisticated yet easy-to-use laser tag guns equipped with great features.
In this review, I am going to walk you through the main features of this popular set and reveal what I like and don't like about it.
You can purchase the Nerf Lazer Tag Phoenix set on Amazon.
About the Lazer Tag Brand
The Nerf Lazer Tag brand was originally created by American toy company Worlds of Wonder. In 1990, when Worlds of Wonder ceased operations, the Lazer Tag brand was acquired by product invention company Shoot the Moon, and later licensed to toy manufacturer Tiger Electronics.
In 1998, Tiger Electronics was acquired by Hasbro (owner of the Nerf brand), and as a result, the Lazer Tag brand became part of the Nerf line of products.
Various laser tag blasters have been produced ever since the Lazer Tag brand was introduced in the 1980s, with the Phoenix LTX, first released in 2008, perhaps one of the most successful models.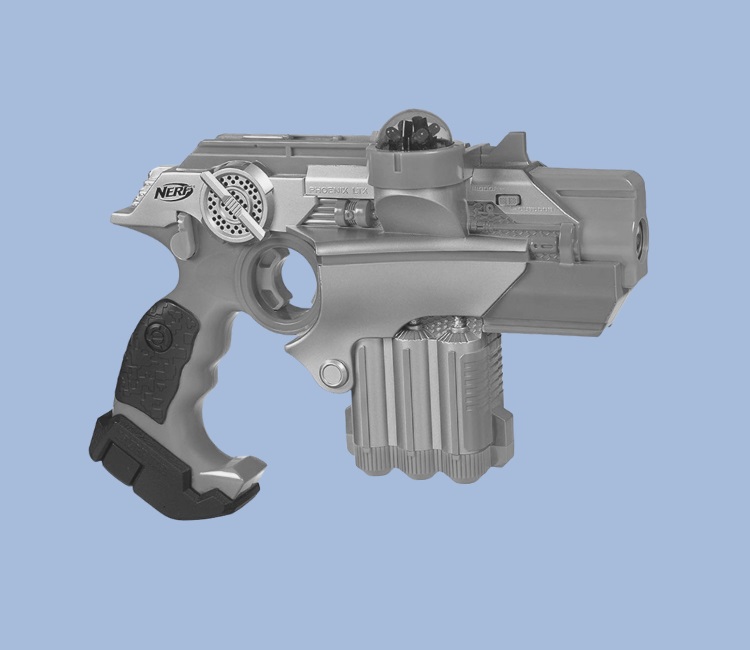 The Lazer Tag series was officially discontinued in 2012, with Nerf releasing a brand new series of laser tag blasters called Laser Ops in that same year. Check out my review of the Laser Ops Pro blasters for more information.
Interestingly, despite the fact that the Nerf Lazer Tag series has officially retired, the Phoenix LTX set is still available for purchase on Amazon. You can't buy them in stores anymore, but on Amazon, they are still quite popular.
Phoenix LTX Tagger Features
Time to get into the fun part.
Let's go through some of the top features and characteristics of the Phoenix LTX Tagger 2-Pack home laser tag set.
1. Game Mode
Before starting a laser tag battle, players need to choose between two different game mode settings. The options to choose from are solo and team play.
Solo basically means free-for-all; everyone plays for themselves, battling against everyone else to determine the winner.

Team mode lets you play laser tag in different teams. You can't accidentally tag your teammates, and the team with the most hits wins. Teams can consist of multiple players, and once set, the teams cannot be changed during play.
It's worth pointing out that you can buy multiple Phoenix LTX sets, and all blasters can be used in the same laser tag battle.
2. Indoor / Outdoor Switch
The other thing you need to do before starting a battle is choose between an indoor and outdoor game. That's right; you can play laser tag indoors as well as outside in the park with this laser tag set.
The differences between these two settings aren't huge, but for example, when playing outdoors, you will need a further range, which is what the outdoor option delivers.
3. Light and Sound Effects
Home laser tag guns often come with over-the-top sound effects, to the point where they get annoying. With Nerf Phoenix LTX, the sound effects are actually pretty cool and certainly not over the top.
Each registered hit comes with light, sound, and vibration effects, which makes it easier for all players to understand what's going on during combat. There's even a recoil effect which makes the game even more realistic.
It's also worth pointing out that the Phoenix LTX taggers are generally a bit heavier and larger than many other home laser tag guns you can buy online. For young children with smaller hands, this may be an issue, but I find these blasters quite ergonomic.
4. Ammo Indicator and Strength Switch
An ammo indicator on the blaster keeps you up to date on your ammunition levels.
When you've run out of ammunition, simply press the power core release button and put it back into the blaster. Once that's done, you're fully loaded and can continue the battle.

The strength switch is something different. This setting indicates how often a player can be hit before being eliminated. The available options are 10 or 25 lives, which cannot be changed during play.
For larger teams, choosing the 25 lives setting makes sense, as players will get hit more often. If it's a one-against-one battle, choosing 10 may be the preferred option, as otherwise games may go on for too long.
5. Shield Activation
A cool feature is the shield activation button, which protects you from being tagged for a certain amount of time. The drawback is that you cannot tag your enemies either.
Shield activation is a strategic feature. For example, if you're surrounded by enemies, it can be a smart move to activate your protective shield, as this will allow you to escape the situation.
Just keep in mind though that you can't use shield activation too many times, so use it wisely.
6. Batteries
One major drawback of the Phoenix LTX set is that each blaster requires no less than 6 AA batteries to operate. This means you'll have to purchase 12 AA batteries when buying this home laser tag set. Yes, they are indeed very thirsty blasters.
On a positive note, the batteries actually last pretty long. So it's only the initial investment of 12 batteries that hurts a little, but you won't have to worry about having to buy new batteries every couple of weeks.
Also note that a screwdriver is required to insert and lock in the batteries.
As mentioned, the Nerf Lazer Tag Phoenix LTX home laser tag set is still available for purchase and seems to still be a pretty popular model after all these years.
Even though this model has been around for quite some time, it can still compete with the newer models. In fact, Phoenix LTX outperforms many of the newer, cheaper laser tag sets in various ways.
Do I recommend this laser tag set?
Yes, I absolutely do. If only because it may soon become a collector's item. And if you're a true laser tag fanatic like I am, it's always nice to have a broad collection of different blasters at home.
| Review: | Nerf Lazer Tag Phoenix LTX |
| --- | --- |
| Summary: | First released in 2008, the Nerf Lazer Tag Phoenix LTX Tagger 2-pack is a set of two easy-to-use home laser tag guns equipped with a wide range of features. Despite the fact that this model has been around for quite some time, it can still easily compete with newer home laser tag guns. |
| Author: | Thomas Dunnett |
| Rating: | 4.4 (out of 5) |