Please note that I may earn a small commission from purchases made through product links in this article at no extra cost to you. As an Amazon Associate I earn from qualifying purchases.
Last updated: July 26, 2023
Reviews of five of the best Nerf Mega blasters, plus a guide explaining what the Mega series is all about.
Nerf N-Strike Mega is a series of blasters that was first introduced in 2013 and has since delivered various blasters in different categories.
While not the most popular and certainly not the best series in the history of Nerf, there are a few cool Mega blasters that are worth purchasing.
Keep reading, as I am going to share the five best Nerf Mega guns you can buy today.
Top 5 Nerf Mega Blasters:
Let's have a closer look at these five Nerf Mega guns.
1. Nerf N-Strike Mega Megalodon

Topping the list of best Nerf Mega guns is the Megalodon, a slide-action weapon that can shoot darts in single and slam-fire mode.
The handle at the top of the blaster doubles as a carrying handle and as a priming handle. That may seem awkward, but priming and firing with the Megalodon is a fun and smooth process.
While the Megalodon certainly doesn't offer the best performance, it's a fun blaster to operate with bonus points for the large dart drum.
2. Nerf N-Strike Mega Mastodon

The Mega Mastodon is a fully automatic flywheel-powered blaster that comes with an integrated dart drum that can hold 24 darts. It is also one of the largest Nerf blasters ever made, and that alone makes it special.
The Mastodon requires six D-batteries to operate, which makes the blaster noticeably heavier and also more expensive. But if we put that aside for a moment, the Mastodon is one of the best-performing Mega blasters and is incredibly fun to operate.
As you can see in the picture, you're meant to hold the Mastodon at the hip via the handle at the top, which just adds to the fun factor. Overall, it's clear that the Mastodon is designed to be fun and intimidating.
Mega Mastodon
Year:
2016
Mechanism:
Flywheel system
Capacity:
24 darts
3. Nerf N-Strike Mega TwinShock

The Mega TwinShock is a real Nerf shotgun, meaning it can fire two rounds at once, but you can also choose to fire just one dart.
It's a spring-powered, pump-action machine that can hold 10 Mega Darts at the front of the blaster. Priming and firing with the TwinShock is a lot of fun and feels incredibly solid, but do note that this is quite a big and clunky blaster.
It may not be the best-looking Nerf gun ever made, but it performs really well, and I also like the shotgun aspect of it.
Mega TwinShock
Year:
2017
Mechanism:
Pump action
Capacity:
10 darts
4. Nerf N-Strike Mega CycloneShock

The Mega CycloneShock is a revolver-style blaster that can hold up to six Mega Darts in its cylinder. If you're familiar with the immensely popular N-Strike Elite Strongarm and Disruptor, you will see how the CycloneShock is very similar.
It's a spring-powered blaster with a slide-action priming mechanism with the priming handle located above the grip. The priming and firing mechanism as a whole is smooth and pleasant, but it can only do single-fire and not slam-fire.
The solid firing experience combined with the fact that it can hold six darts makes the CycloneShock deserving of a spot on this list of best Nerf Mega guns.
Mega CycloneShock
Year:
2015
Mechanism:
Slide action
Capacity:
6 darts
5. Nerf N-Strike Mega RotoFury

The last model on this list of best Mega blasters is the RotoFury, a pump-action blaster that can hold ten darts in its rotating drum. Contrary to the CycloneShock above, the RotoFury is also slam-fire enabled.
It's a spring-powered blaster with a rather large priming handle at the front, right underneath the barrel. The priming action works well, and both single-fire and slam-fire modes result in decent velocity.
I prefer the CycloneShock over the RotoFury because, in general, I'm not a huge fan of the way the priming mechanism works with the handle at the front, but that's my subjective opinion.
Mega RotoFury
Year:
2015
Mechanism:
Pump action
Capacity:
10 darts
About the Nerf Mega Series
The Nerf Mega range of blasters was first introduced in 2013 with a bright red color scheme and a brand new dart.
The series was initially a sub-series of N-Strike and N-Strike Elite but later evolved into a parent series in its own right. Several sub-series have also come out over the years, such as the AccuStrike and the Sonic ICE series.
The goal with the Mega series was to deliver blasters with a much-improved firing range, up to 100 feet or 23 meters. One way to achieve that goal was with a newly designed dart.
Mega Dart
Blasters in the Mega series fire the Mega Dart type, a red-colored dart that is, unsurprisingly, larger than regular Nerf darts.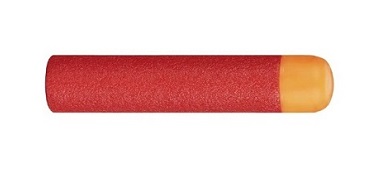 For some perspective, the classic Elite Dart fits inside the Mega Dart. And because the dart is so big, the blasters and magazines are generally a bit bigger than their Elite counterparts as well. Mega Darts also produce a funny whistle sound when they fly through the air, which may appeal to some.
Honestly, though, the Mega series hasn't fully lived up to its expectations. The new dart is fun and cool, but in reality, it hasn't resulted in a considerable performance boost for the blasters. It also doesn't help that the blasters are bigger, which might add to the fun factor but also makes them less practical.
But to give it a positive spin, I do like the above Mega blasters. They're fun to shoot with, look fantastic, and are generally great to have as part of your Nerf blaster collection.
There you have it, my top five Nerf Mega blasters.
Perhaps you were expecting the 2020 Mega MotoStryke also in this list, but I've deliberately left that one out. As good as the MotoStryke looks and performs, it has an issue with the trigger button that kind of ruins the blaster.
You may have also noticed that I haven't included the two sniper rifles Centurion and Sonic ICE Centurion in this list of best Mega guns. The truth is, the Centurion isn't all that great. I like the looks of the Centurion, and it's a great collector's item, but it's not a properly designed blaster.
Other than that, do you agree or disagree with my top five? Feel free to leave a comment or send me an email with your thoughts!