I may earn a small commission from purchases made through product links in this article at no extra cost to you. As an Amazon Associate I earn from qualifying purchases.
Last updated: August 16, 2023
Reviews of seven of the best Nerf Fortnite guns, plus a guide explaining the ins and outs of this unique range of blasters.
The Nerf Fortnite range of blasters was first introduced in 2019 and is based on a popular video game that goes by the same name.
Unsurprisingly, each blaster in the Nerf Fortnite series is based on one of the weapons used in that game.
In this article, I am going to explain what the Nerf Fortnite series is all about, followed by my personal top seven best guns in this unique range.
Top 7 Nerf Fortnite Blasters:
About the Nerf Fortnite Series
Nerf Fortnite is more than just another series of Nerf guns. It's a real Hasbro brand that contains more products than only blasters.
The brand was introduced to help promote the game Fortnite, a hugely popular online multiplayer game developed by Epic Games in 2017.
The Nerf Fortnite series is purely theme-based. The guns in the series don't come with exciting new functions, features, or technology. Nerf Fortnite blasters are themed weapons that use existing Nerf technology.
As a result, the Fortnite series isn't exactly super popular with hardcore Nerf fans, but more so with fans of the game Fortnite and those who appreciate the unique look and feel of Nerf Fortnite guns. And some of them do look great.
Fortnite Dart
While the Fortnite series doesn't offer any groundbreaking new technology, it does introduce a brand new dart, the Fortnite dart.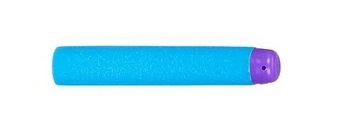 But before you get excited, this isn't actually a new dart at all. It's essentially an Elite dart with a different color scheme to match the Fortnite theme. The body of the dart is blue, and the dart head is purple colored.
In addition, for the Fortnite Mega sub-series, the Fortnite Mega dart was introduced.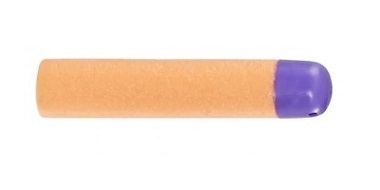 But again, it's basically the same as a Mega dart but with a different color scheme, orange and purple.
Check out my complete list of all Nerf darts to see all the different darts that Nerf has produced over the years.
Naming Convention
You may have noticed the somewhat cryptic names of the individual Nerf Fortnite blasters. The abbreviations, like "AR-L" and "SMG-E", aren't just made up; they do actually mean something.
The letters before the dash represent the type of gun as per the video game. For example, AR stands for Assault Rifle, and SMG stands for Sub Machine Gun.
The letter after the dash represents the rarity, also in line with the game. Using the same examples, the L stands for Legendary, whereas the E stands for Epic.
Note that not all Nerf Fortnite blasters are named this way, but most of them are, which is quite fun.
Read on, as I am now going to discuss my top seven Nerf Fortnite blasters.
Top 7 Nerf Fortnite Blasters
This is my top 7 list of best Nerf Fortnite guns you should consider adding to your Nerf collection.
1. Nerf Fortnite SMG-E

The 2020 Nerf Fortnite SMG-E is a semi-automatic, flywheel system blaster that can hold six Fortnite or Elite darts. The six-dart magazine can be replaced by a higher capacity N-Strike version, should you have that already in your collection.
Firing with the Fortnite SMG-E is pretty easy and fun. It has a flywheel system, which means you need to pull the acceleration trigger to power the flywheels, and then use the firing trigger to fire the individual darts.
Overall, the firing mechanism with the SGM-E is smooth and offers respectable performance. Do note though that the Fortnite SMG-E requires 4 AA batteries which are not included.
Nerf Fortnite SMG-E
Year:
2020
Mechanism:
Flywheel system
Capacity:
6 darts
2. Nerf Fortnite SP-L

The Nerf Fortnite SP-L is a spring-powered, sidearm pistol-style blaster, with a slide-action priming system. The long, detachable barrel is what makes this blaster stand out. It doesn't make it perform better; it just makes the gun looks incredibly cool.
As mentioned, this is a spring-powered blaster that can carry three Fortnite (or Elite) darts in its internal magazine. It's a single-fire only blaster, so there is no slamming with this one, but that only makes sense for a pistol-style blaster.
And in case you were wondering, the abbreviation SL stands for Suppressed Pistol. Good to know!
3. Nerf Fortnite 6-SH

Number three in this list of best Nerf Fortnite guns is the 6-SH, a hammer-action revolver-style with a respectable firing capacity of six darts. It has a cylinder-style magazine that is very easy to load.
Note that the large barrel comes packaged as a separate component, but once attached, it is not designed to be removed and replaced. Not an issue at all; it's just different from the SP-L, which does have a detachable barrel.
Despite the hammer action mechanism, firing with the 6-SH is relatively easy and smooth, but performance is lacking a bit.
Nerf Fortnite 6-SH
Year:
2021
Mechanism:
Hammer action
Capacity:
6 darts
4. Nerf Fortnite BASR-L

The Nerf Fortnite BASR-L is a bolt-action sniper rifle-style blaster with a firing capacity of six darts. The interesting (and also weird) thing about the BASR-L is that it can fire in single and slam mode, which is quite unusual for a rifle-type weapon.
The Fortnite BASR-L is not an outstanding performer, especially compared to other Nerf sniper rifles, but it offers a very smooth priming and firing mechanism. And it also just looks good, in my humble opinion, at least.
I appreciate the BASR-L so much that I have it included in my list of best Nerf sniper rifle blasters. Check that list out if you're interested in that type of Nerf gun.
5. Nerf Fortnite Heavy SR

The Nerf Fortnite Heavy SR is the second sniper rifle-style blaster on this list of best Nerf Fortnite guns. The Heavy SR is newer than BASR-L and also visibly bigger and noticeably heavier.
What I like most about the Heavy SR is its intimidating design. It's big, bold, and has all the characteristics of a real sniper rifle, and the color scheme is fantastic too. The blaster works very similar to the BASR-L and also has a magazine that can hold six darts, but the Heavy SR fires Mega darts instead.
Overall, I prefer the BASR-L over the Heavy SR because it performs better and feels much lighter in the hands.
6. Nerf Fortnite Pump SG

Released in the first half of 2021, the Nerf Fortnite Pump SG is a mean-looking, pump-action shotgun-style blaster with a modest firing capacity of just one dart. It does come packaged with four Fortnite Mega darts, so you'll have extra ammo.
If it can only fire one dart, then why do I like it? Good question! I appreciate the Fortnite Pump SG because of its simplicity, mechanics, and looks. I think this blaster looks absolutely fantastic, which is half the fun. In addition, its priming and firing mechanism feels rock solid.
Do note though that the Fortnite Pump SG is basically for fun only. It's definitely not a performance monster at all, and the fact that it can only hold one dart doesn't help either. In other words, there are better Nerf shotguns available out there. But as I said, the Pump SG is fun.
Nerf Fortnite Pump SG
Year:
2021
Mechanism:
Pump action
Capacity:
1 dart
7. Nerf Fortnite Compact SMG

The 2022 Compact SMG is a semi-automatic flywheel blaster that runs on four AA batteries and features an internal dart clip that can hold up to eight darts.
The first thing you will notice with the Compact SMG is its unusual appearance, which some may like and others perhaps not so much. I can always appreciate bold designs, and I think the Compact SMG looks great, even more so with that bright red color.
The darts can be loaded into the internal magazine at the bottom of the blaster, which means you have to turn the blaster around. A bit unusual and slow but easy to get used to. The firing process with the rev and the trigger button feels very smooth, and the performance is also acceptable.
Nerf Fortnite Compact SMG
Year:
2022
Mechanism:
Flywheel system
Capacity:
8 darts