Please note that I may earn a small commission from purchases made through product links in this article at no extra cost to you. As an Amazon Associate I earn from qualifying purchases.
Last updated: July 3, 2022
Nerf Ultra is a new series that was first released in 2019, offering blasters in different categories that fire with the new aerodynamic Ultra dart.
While the Nerf Ultra Series has not been hugely successful so far, it does have a few good guns that are worth investing in.
In this article, I am going to explain what Nerf Ultra is all about, and I will share with you what I believe are the five best blasters in this range.
4 Ultra darts firing capacity
10 Ultra darts firing capacity
Top Pick
4 Ultra darts firing capacity
Second Choice
10 Ultra darts firing capacity
Top 5 Nerf Ultra Guns:
About the Nerf Ultra Series
The Nerf Ultra series, marketed as ULTRA, was released in the second half of 2019, with the appropriately named Ultra One being the first blaster in that series.
The marketing idea behind the new Ultra series was to offer blasters with superior performance and advanced features. Blasters in the Ultra series all fire with Ultra darts, a custom-built dart type, designed to improve performance.
It's important to understand that blasters in the Ultra series aren't much different from blasters in previous lines, such as the Elite and Mega series. The key difference is the newly designed Ultra dart that sets Ultra blasters apart from other Nerf blasters.
Ultra Dart
The Ultra dart is noticeably thicker than the Elite dart, and a bit thinner than the Mega dart. It's also shorter than those other two dart types.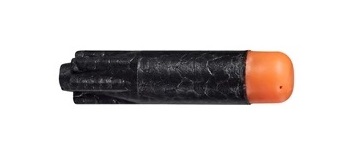 But does the Ultra dart make such a huge difference?
Perhaps a bit, but the Ultra dart certainly isn't the engineering masterpiece that many were expecting it to be when it was released. Ultra blasters do tend to shoot father than, let's say, Elite blasters, but the firing accuracy isn't the best at all.
AccuStrike Ultra Dart
In 2021, Nerf introduced The AccuStrike Ultra dart as a better-performing version of the 2019 Ultra dart in regards to shooting accuracy.
If you look closely at the two darts, you will see that the AccuStrike Ultra dart has a flat dart head, and the color scheme is obviously also different. Size-wise, they are the same.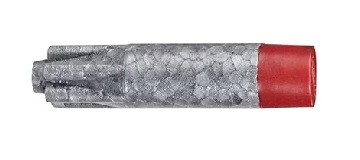 But while the Accustrike Ultra dart has certainly improved accuracy a bit, the general consensus is still that the Ultra series has not lived up to expectations.
That said, we shouldn't ignore the Ultra series. That wouldn't be fair. Just because the Ultra series as a whole has been rather disappointing so far, doesn't mean it's all doom and gloom. There are a few Ultra blasters that are worth buying.
If you'd like to learn more about the different dart types that exist, check out my article listing all the Nerf darts ever made.
Read on, as I am now going to discuss the five best Nerf Ultra blasters.
Here we go, this is my top 5 list of best Nerf Ultra guns you should consider adding to your Nerf collection.
1. Nerf Ultra Five

I mentioned the Nerf Ultra One above, and you may be wondering why it isn't included in this list. Well, because that model was a huge disappointment, and not exactly a good way to introduce the new Ultra series.
The Nerf Ultra Five, on the other hand, is a pretty cool blaster, and one of my favorites. It's a spring-powered pistol with an internal magazine that can hold up to four darts.
The Five is not a Nerf gun that's going to win you Nerf wars. But the cool design of the Ultra Five, in addition to its smooth priming mechanism and respectable performance, make this a blaster to consider buying.
Check out my review of the Nerf Ultra Five.
2. Nerf Ultra Pharaoh

The Nerf Ultra Pharaoh is a fantastic sniper-style blaster that has earned a prominent spot on my list of best Nerf sniper rifle blasters.
Released in 2020, the Ultra Pharaoh is a magazine-fed, bolt-action, single-fire blaster that looks and feels like a true sniper rifle, which is the main reason I like it so much.
Overall, the Pharaoh has pretty good ergonomics with a very smooth and solid priming and firing mechanism. And while it may not outperform other Nerf sniper rifles, the Pharaoh does offer decent performance in regards to firing distance and velocity.
Check out my review of the Nerf Ultra Pharaoh.
3. Nerf Ultra Select

The 2021 Nerf Ultra Select is a fully automatic, flywheel-powered, magazine-fed blaster. The Ultra Select comes with 10 Ultra darts and 10 AccuStrike Ultra darts, and as mentioned above, the newer AccuStrike Ultra darts are designed to be more accurate than the original Ultra darts.
Considering this is a full-auto blaster, the small firing capacity of only 10 darts (per clip) is a bit of a drawback. The Rival Nemesis and Rival Prometheus, for example, have much bigger magazines. The Select does come with two sets of magazines and darts though, and both magazines are attached to the blaster at the same time. Loading the magazines, and switching between them while in use, is an easy enough process.
In regards to performance, the firing velocity and firing distance with the Ultra Select is pretty good, but certainly not outstanding by any means, especially compared to Rival blasters.
4. Nerf Ultra Four

Coincidentally, the fourth Ultra blaster on my list is the Nerf Ultra Four, another pistol-style blaster with a firing capacity of just one dart.
That's right, the Four is pretty much the most basic blaster in this list, but for what it is, it's quite a fun model to add to your collection.
The Four comes with four Ultra darts, one of which fits into the barrel at the front, and two darts can be stored in the small storage component at the bottom of the blaster.
It's a spring-powered blaster, which means you will need to pull the long handle at the back to prime, and then fire the dart.
5. Nerf Ultra Three

The last one on this list is the Nerf Ultra Three, a pump-action single-fire shotgun-style blaster with an integrated magazine that can hold up to eight darts.
The Three stands out a bit as one of the best performing Ultra blasters with a very decent firing velocity. That, combined with a pleasant firing mechanism makes this a blaster to pay attention to.
By the way, this is a shotgun "style" blaster, not a real shotgun that can fire multiple rounds at once, which the Three can't do. Check out my list of best Nerf shotguns to learn more.
There you have it, my top 5 blasters in the Nerf Ultra series. I hope this article has given you some perspective about this particular range of blasters, as it does have a bit of a bad reputation.
And while I do agree that the Ultra series has been disappointing overall, that doesn't mean we should ignore all blasters in this range. There are a few decent ones that are worth buying, especially the five I have listed above.